$350,000 funded and awarded. | Teaching the significance of religion in American & Florida history.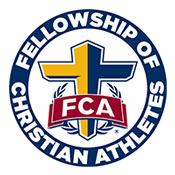 FCA Chapters receive grants to deliver the program services of teaching the historical significance of religion in American and Florida history into Florida's public schools.
FCA was formed in 1954 to empower student- athletes to make a difference on their campuses and in their communities. Reaching an estimated 2 million people annually, the impact of FCA spans the globe. As a 501(c)(3) organization, FCA staff and volunteers strive to impact student athletes through their passion for sports.
Religion has played a significant role in the history of the United States, its laws, values, and customs.
The teaching of the historical significance of religion in Florida, and America, has largely been stripped from the public education system over the past 40 years. The combination of a funding source, coupled with an established delivery vehicle to provide that teaching is a combination that has not existed until now. This is truly a pivotal moment in the lives of students across Florida.
This program gives a large number of students information about their religious heritage. The goal is increasing their awareness of the foundation on which their country and state were built, and the religious freedom they enjoy. The hope is that this training will inspire them to live honorable and moral lives, and to pass along what they have learned to their peers and the next generations to come.