$75,000 funded and awarded. | Teaching the significance of religion in American & Florida history.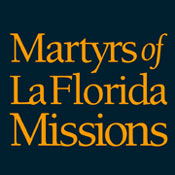 From 1549 to 1761 many priests and natives were killed in evangelizing in our nation's colonial land then known as La Florida. Heroes of La Florida is an education program for youth introducing them to the little known Christian heroes who walked the lands of our colonial nation, then called La Florida.
The Martyrs of La Florida Missions have volunteer speakers who give lectures in schools, and are developing video and electronic lecture and lesson materials to spread this teaching wide and deep.