$5,000 In Stability and Guidance for Overseas Florida Military Youth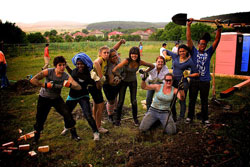 This will benefit approximately 50 youth. All of these activities are well chaperoned, and have high ratios of volunteer leaders for kids in attendance. Military installations are often isolated, and military teens are frequently uprooted from familiar settings and moved from one foreign country to the next with language, culture and customs they don't understand.
This amplifies the problems and struggles of military youth and teenagers. And this grant though Military Community Youth Ministries will provide dependability and guided continuity for them in that environment.