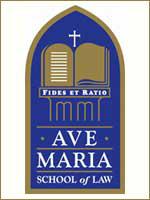 Ave Maria School of Law affirms the Catholic legal education's traditional emphasis on the only secure foundation for human freedom – the natural law written on the heart of every human being. It affirms the need for society to rediscover those human and moral truths that flow from the nature of the human person and that safeguard human freedom.
Ave Maria School of Law recognizes that all areas of legal practice, both public and private, serve the common good. Some graduates will serve the profession in private practice, while others will serve in legal aid organizations or in other areas of public service, in the academy, and in business.
The Ave Maria community of faculty, administrators, mentors, students, alumni, and staff is based on the inherent dignity of every human being stemming from our creation in the image and likeness of God and raised to a new level by our redemption by Jesus Christ. In recognition of the dignity of all, this community welcomes people of all faiths who wish to receive the education we provide and to join with us in our dedication to the truth.